Care for Your Hair
How to Get Rid of Greasy Hair A Simple Guide
Do you constantly ask yourself 'why is my hair so greasy?' Well, you're not alone, here's the expert tips you need to get your roots looking fresh.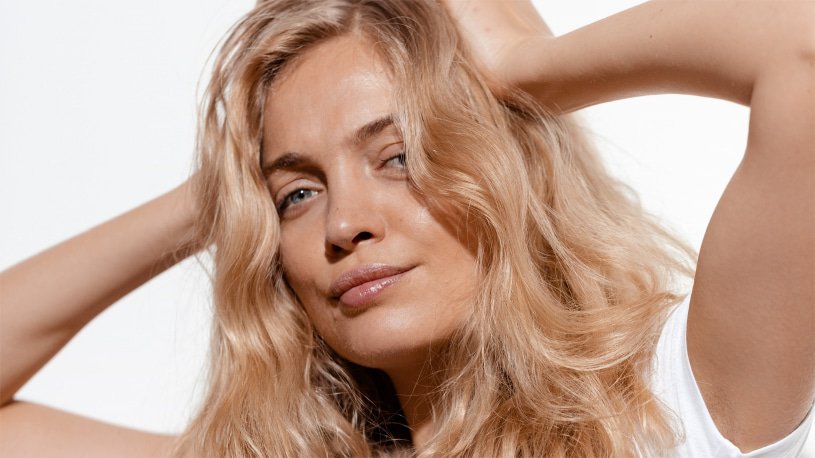 There is nothing more frustrating that washing and styling your hair for the roots to become greasy in what feels like mere hours . If this sounds familiar, then take comfort in the fact that you're not alone. 20% of people have an oily scalp which means the roots get greasy pretty quick. Unfortunately, greasy roots have been wrongly linked to bad hygiene and they can knock confidence. So, what does cause greasy hair? And how can you keep those oily roots at bay? Below we reveal everything you need to know, including the products you can rely on to keep your hair looking fresh and grease-free.
Everyone has a hydrolipidic film on their scalps, this fatty layer protects the skin and hair follicles from the environment (think UV rays and pollution), it also helps to keep hydration levels optimal. But some people have too much of this hydrolipidic layer. Why? Well, the causes are annoyingly varied. First up, there are external causes that can trigger an overproduction of this hydrolipidic layer. Those include heat tools, hard water, exercise and pollution. Second are the internal factors such as stress and exhaustion, an unhealthy diet, genetics and periods. Work through these factors and ask yourself which of these could be contributing to your greasy roots?
It's important to get your scalp sebum under control because, especially for city-dwellers, if pollution gets trapped in the hydrolipidic layer it can cause the sebum on your scalp to oxidize which can lead to aggravation at the scalp such as itching or flaking.

Read: The 4 Scalp Problems You Need on Your Radar
Which products will prevent greasy hair?
It's often said that too frequent hair washing can lead to an overproduction of sebum but that's not based on any solid scientific evidence. Whether you like to wash your hair daily or twice a week comes down to personal preference. The issue isn't necessarily over-washing but not using the correct products that are suited to your scalp and hair concerns.

The secret is to find a haircare regime that rids the scalp of excess sebum, keeps your hair lengths hydrated and protects against pollution. Tackle excess oil with a simple 4-step routine.
STEP 1
Use the Scrub Energisant in place of your shampoo once a week. Designed for oily prone scalp and hair, this scrub combats oiliness and even dandruff. The sea salt exfoliates to remove sebum, impurities and product build-up, while Vitamin B6 and salicylic acid protect the scalp and take down unwanted inflammation. You simply massage the scrub, using circular motions, into the scalp under a warm shower. The scrub lathers beautifully to unclog pores, whilst cleansing scalp and strands. Not only does this scrub tackle oily roots, 72% of people found they had more volume at the roots after application and their hair was shinier with a lightweight feel.
STEP 2
On your other hair wash days, use Spécifique Bain Divalent to bathe the scalp and strands. This scalp balancing shampoo treats oily roots by regulating the overproduction of sebum. It also nourishes the hair from root to tip leaving your strands soft and shiny. Over time, you'll find that your roots will get greasy less quickly.
STEP 3
It's easy to forget that an oily-prone scalp needs hydration too. Lean on the Spécifique Masque Hydra Apaisant once or twice a week. This silicone-free mask works in just 3 minutes to purify the scalp, treating oily roots, reducing dandruff and soothing an itchy scalp. Your scalp and hair will feel nourished and hydrated in no time.
STEP 4
For anyone using heat tools, it's key to use a heat protector not just to protect strands but to prevent your scalp from overproducing sebum. L'Incroyable Blow-dry offers thermo protection up to 230 °C.